Manage - Labels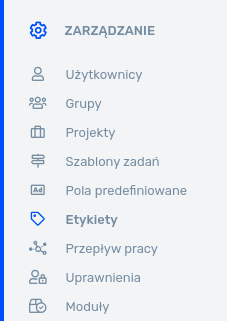 In this section we have the possibility to define labels. The labels are used for tagging tasks / tasks. You can use them on the task list or in an array view.

Function button

opens a pop-up menu, where we can edit and delete.

Edit - opens a window with the possibility of completing the data related to the labels. These data include the name, color of the label and related projects and visibility.

Dodawanie etykiety

Delete - this function removes the label from the system.
Example
The labels can be used for e.g. applying your own task/job statuses to the system. Thanks to such a solution we can better adapt the application to our needs.